IT'S Y
OUR

 CHAMBER
CLAIM YOUR LEVEL OF ENGAGEMENT.
Tempe businesses small and large take great pride in their local Chamber of Commerce, with good reason. The Tempe Chamber, a 501(c)(6) non-profit business organization, functions to serve our members and their business needs. Business leaders like you are what the Chamber is comprised of, serves, and exists to help succeed.
CLICK HERE to review the membership level benefits.
You lead our community in giving back & you want to make it a better place to live, work & do business. Your investment fuels our work to build a sustainable community where business thrives. Recognize your role in advancing our community and as a top investor.
Your company values its legacy and strives to channel that prestige towards a more prosperous future. You're known for giving back and you want to make this a better place to live, work, and play. As a key partner, your investment supports our ability to strengthen our economy.
High-level leadership is important to your community-minded organization, and you're looking to attend the most valuable programs and events in the region. Your business is primed to influence the direction of public policy and share the room with an elite group of leaders and influencers.
You care about the greater picture–for both your business and the surrounding community. Here's your chance to begin establishing your business as a community supporter and contribute to key business and advocacy efforts. You'll help shape a more prosperous and business-friendly community.
You're a growing company looking for exposure, awareness, and to build on your burgeoning success. While you're busy cultivating your customer base, we provide you with essential tools for growth, plus the enhanced visibility and attention you need to elevate your community presence.
You're a small business of 25 or less, learning how your products and services fit into the larger ecosystem. Through educational workshops and relationship-building opportunities, this membership level opens the door for you to build your business and enhance your marketing reach.
| | |
| --- | --- |
| For the entrepreneur or business professional that puts you in the driver's seat to choose the engagement level that fits your needs. | |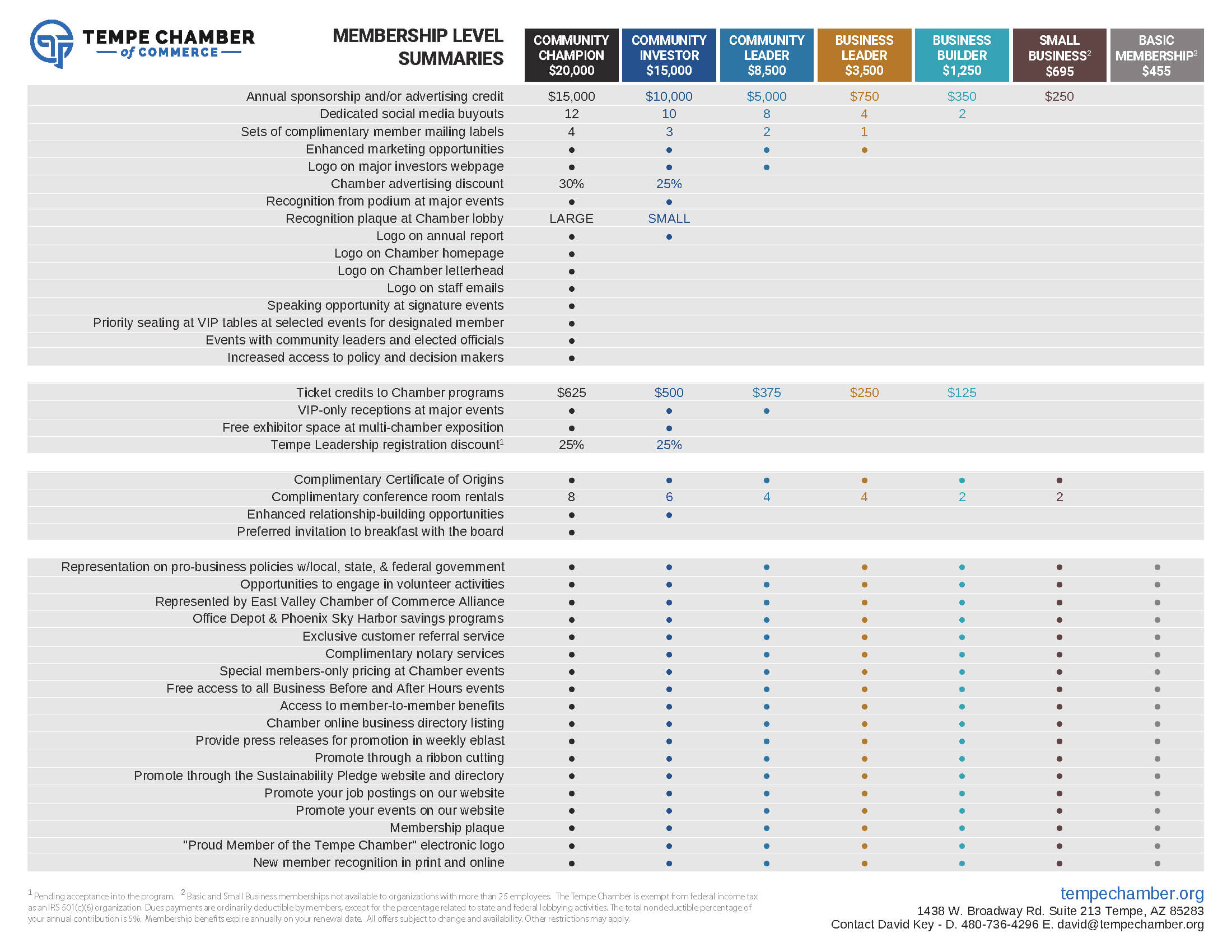 1. Pending acceptance into the program. 2 Basic and Small Business memberships not available to organizations with more than 25 employees. The Tempe Chamber is exempt from federal income tax as an IRS 501(c)(6) organization. Dues payments are ordinarily deductible by members, except for the percentage related to state and federal lobbying activities. The total nondeductible percentage ofyour annual contribution is 5%. Membership benefits expire annually on your renewal date. All offers subject to change and availability. Other restrictions may apply.