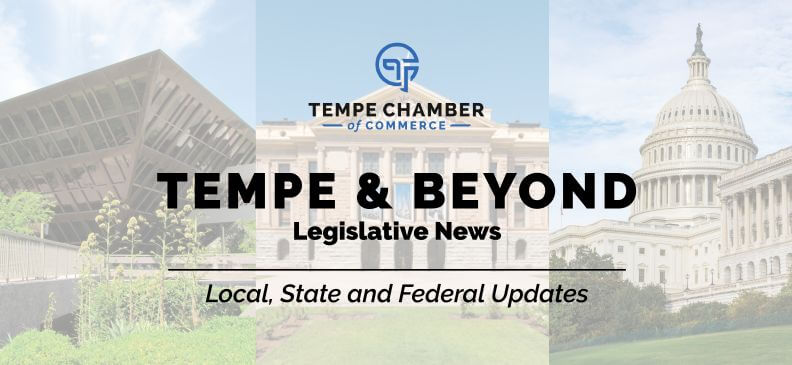 Legislative News - Week of December 16, 2022
Special Session Next Week?

Talk of a Special Session of the Legislature gained traction this week as House Leadership began asking members about their availability next week. The Senate made similar availability calls last week.

Issues being discussed for a Special Session of the Legislature include:

• Aggregate Expenditure Limit

• Regional Transportation Tax Extension (Prop 400)

• Election Reform (ending mail-in voting on the Friday before Election Day)

• Prohibiting Critical Race Theory in Schools

Governor Ducey this week told KTAR this week that "...it's on leadership to tell us we have the votes. And what we're getting right now is a lot of 'yes if' and 'yes and,'" said Ducey, whose time in office is nearing an end.

"What we want to hear is 31 and 16 yeses. That's how you get to a special session. So, that's on the Legislature."

While a supermajority of the legislature can bring itself into a special session, Governor Ducey has the power to do so through a call with a specific issue focus.

Arizona Minimum Wage Set to Increase

Thanks to Prop 206 (2016), Arizona's minimum wage is set to increase from $12.80 an hour to $13.85. The 2016 initiative requires the state minimum wage to be tied to the cost of living. The 2023 increase in minimum wage is based on the increase in inflation between August 2021 and August 2022, as published in the U.S. Bureau of Labor Statistics' Consumer Price Index.

The only way to change the formulaic increase is to ask the voters to change or remove the increase through a ballot measure. The Arizona Legislature cannot change the wage rate unless 3/4 of each chamber "furthers the purpose" of what was passed by the voters.

Small businesses, many in the hospitality industry, are getting ready for the increase by reducing staff hours, reducing operating hours, and laying off employees.

Housing Supply Study Committee Meets

The Interim Housing Supply Study Committee held another meeting this week. The committee received a very informative presentation about housing trends (corporate purchasing, upsizing, downsizing, etc.) from Anhubav Bagley at the Maricopa Association on Governments.

The committee also received a report from a Wisconsin-based consultant who advocated for encouraging accessory dwelling units, upzoning, inclusionary zoning, and impact fees.