Women in Business Council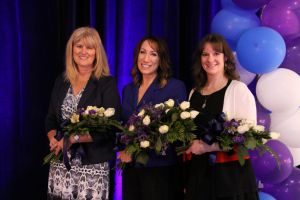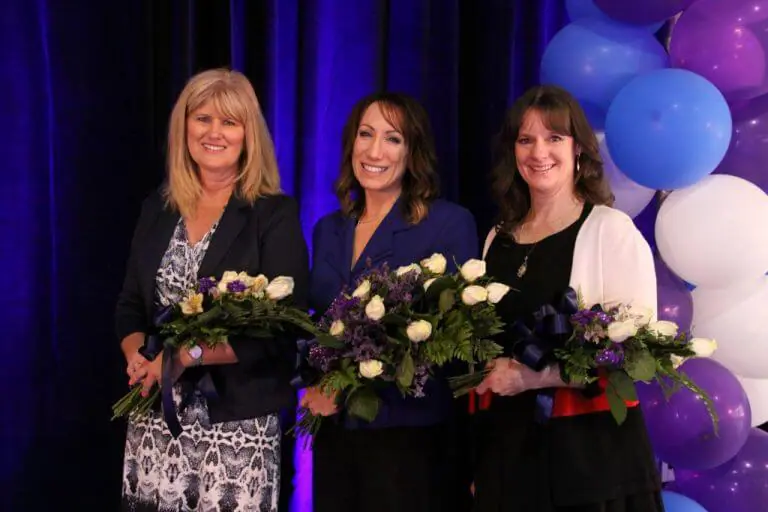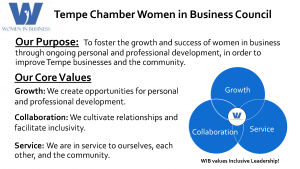 Organize and plan seminars featuring empowering and inspiring speakers to help individuals explore self-discovery and mastery.
Provide networking opportunities to meet with other business professionals.
Ensure the continued viability of the Leadership Conference and its mission of reaching, achieving and celebrating success.
Sustain a dynamic mentoring program to develop high potential Tempe Chamber of Commerce members by coaching them to reach for and achieve their full potential.
Select and pay tribute to the Business Woman of the Year, celebrated at the Leadership Conference.
Mentoring Program
We demonstrate our commitment to both the Chamber's mission and the WIB Council's purpose by offering a Mentoring Program. The Mentoring Program was created in order to assist women and men in reaching and achieving their personal and professional goals and to create an environment in which they can prosper and celebrate their success.
Mentoring can best be described as a relationship between two individuals in which a more accomplished person (the Mentor) assists a less accomplished person (the Protégé) in an area where the protégé is less experienced or desires direction and coaching. The 2021-2022 Mentoring Program will be accepting applications shortly. Thank you to our sponsors:
Copper Sponsors
Leadership Speaker Series
The Leadership Speaker Series is designed to give attendees real-world perspectives from experienced public and private sector leaders. Four powerful expert speakers will inspire, educate and motivate participants to grow and succeed in their professional careers.
The 2022 series will take place on four consecutive Fridays in January and February. Stay tuned for this year's speaker line-up and registration details!
Businesswoman of the Year
Since 1996, the Tempe Chamber of Commerce has celebrated the Businesswoman of the Year Award. This award was established to recognize an outstanding businesswoman who has positively affected the Tempe community and the Tempe Chamber of Commerce.
NOMINEES MUST:
Demonstrate excellence in their field
Display leadership in the community
Serve as a positive role model
Be active in programs and activities in the community and the Tempe Chamber
CLICK HERE to learn more about this year's finalists.  CLICK HERE  for a list of past Business Women of the Year Recipients.
For more information on how to get involved with the Women in Business Council, email paulette@tempechamber.org.
WOMEN IN BUSINESS PLATINUM SPONSOR