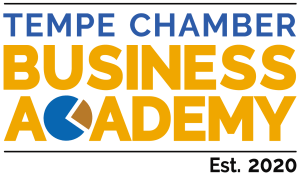 Join other leaders in the community for the 2023 Business Academy co-sponsored by Rio Salado College and presented by Wells Fargo. Gain valuable knowledge to help you grow your business!
Exclusively for Tempe Chamber Members, the 2023 Tempe Chamber Business Academy is an opportunity for businesses and business leaders to gain the knowledge they need to grow their companies and strengthen our community. Leaders can attend individual classes or the entire series.
Session 1 - Wednesday, March 29, 2023
Entrepreneurship & Intrapreneurship
Janelle Elias, Vice President Strategy & Advancement, Rio Salado College
Marketing Strategy
Jim Wilkerson, My Biz Coaches
Financial Planning for Small Business Owners
Sydney Neely, Co-Owner & Financial Advisor, The Neely Group
Human Resources, Payroll & Compliance
Eric Berg, Sales Executive, ADP
Session 2 - Friday, May 5, 2023
Leadership Communication & Presentation Skills 
Melody Elkin, Speech Improvement
DE&I: Creating an Inclusive Culture
Dr. Floyd Hardin III, Executive Officer of Equity and College Relations, Rio Salado College
Cloud Technologies for Small Business
Jeff McDermott, President, American Technology Specialists
Employee Engagement and How to Measure It
Dora Garnett, Senior Consultant, Organizational Effectiveness, Slalom
Ineyne Udoinwang, Consultant, Organizational Effectiveness, Slalom
For more information and to register, contact david@tempechamber.org
If you are interested in being an instructor, click here to apply for consideration for next year's program.